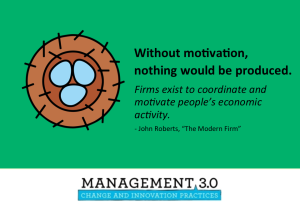 Two questions are often asked in organizations worldwide: What motivates my team? And how can we motivate the people in our organization?
These are important questions indeed, because without motivation nothing would be produced. "Firms exist to coordinate and motivate people's economic activity" as John Roberts writes in his book The Modern Firm.
The Moving Motivators is a tool from Management 3.0 which helps you finding answers to these questions. I always use it with my clients and it helps us to gain great insights and of course we have a lot of fun. Until now the game was only available in English but I am happy to present to you the Japanese version and a unique card set with Japanese and English on both sides.

What people motivates – intrinsic motivation
Before we know how to motivate people, we should ask what motivates or demotivates us because it is different from each person. For example for me as an entrepreneur freedom and curiosity is crucial, I feel very energized and motivated when I can decide my path freely and when I have tasks where I can gain new knowledge. On the other hand my wife likes order, she feels good and motivated when there is certainty and organization in place. When we go travelling this always results in a conflict, as I want to decide the travel spontaneously whereas she wants to plan everything ahead.
If you want to learn more about the power of intrinsic motivation, take a look at Daniel Pinks`s book Drive: The Surprising Truth about What Motivates Us or watch his TED talk: