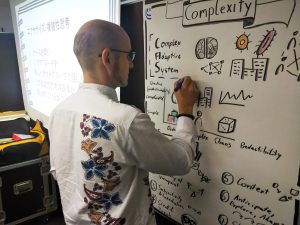 Management 3.0 is a global pioneering approach, currently happening in 27 countries, to help creative organizations survive and thrive in the twenty-first century. It is based on the books by leadership guru Jurgen Appelo who is one of the most influential people in agile.
Management 3.0 is a workshop, a course, a couple of books, and a collection of concrete practices, to inspire managers and team members, who face the challenge of transforming their organizations to be more innovative, with a higher productivity. We achieve this by providing guidance and practices, and by applying new thinking to the craft, art, and science of management and leadership.
The Management 3.0 workshops aim at team leaders, managers, Agile coaches, scrum masters, project managers, product owners, senior team members, mid- and top-level management who are trying to be more agile and lean in their approach to management. In other words everyone who wants to manage for happiness.
The trainings and courses are created to share ideas and experiences from innovative organizations with modern management and leadership practices.
Don't wait while your best employees are quitting their jobs. Visit a Management 3.0 event now!
Two-Day Management 3.0 Foundation Workshop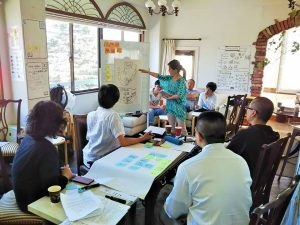 This two-day, hands-on workshop offers best practices, tools and games that project managers, team leaders, middle management and C-level execs can take back and use immediately to start increasing employee engagement and to take action to improve their organizations. The event adhere to the following principles: theory and practice in small chunks; clear and effective visuals; inspiring stories and metaphors; fun games and exercises; focused group discussions; and concrete practices with tangible results.
In the Foundation Workshop we cover the 8 major topics of Management 3.0, which are continually refined and supplemented:
Management and Leadership are one of the two building blocks of Management 3.0. You will learn about the different Management styles, 1.0, 2.0 and 3.0.
Complexity thinking is the other building block of Management 3.0. You will learn about what complexity theory is and about the eight guidelines to deal with complexity.
Energizing people is where you make sure team members are engaged, motivated and happy. You will learn about the difference between extrinsic vs. intrinsic motivation, the ten intrinsic desires and common techniques for understanding what is important for your team members
Team empowerment is the key to self-organisation. You will learn how to distribute authorization in an organisation with the seven levels of delegation and implementing them with the delegation board.
Only through common Values and Culture can self-organisation work. You will learn how to give people a clear purpose, setting a goal and aligning the constraints by helping your team to discover their values and making them alive instead of just decorations on the wall.
Development of competences in the team is important in order to deal with todays fast changing world. You will learn about skill levels and techniques to improve and organize their competence development by using the Competence Development Matrix.
To scale an organisation in an agile way it is important to consider structures that enhance communication. You will learn how to grow an organisational structure as a fractal and to balance specialization versus generalization, when to choose between functional versus cross-functional teams and about treating teams as value units in a value network.
Improving by success and failure is important because team members, teams and organisations need to improve every day by failing fast and learning fast. You will learn how to celebrate failure and why conducting experiments is important and how to manage such experiments.
Visit the event website for our upcoming public workshops
or
Contact us for a In-House Workshop at your company
One-Day "Workout" Workshop
In his book Managing for Happiness, Jurgen Appelo describes many practices how to implement Management 3.0 in your organization. This Workshop is designed in a "workout style" which means that the studied principles and basics from the Two-Day Foundation Course are deepened by practical usage of the tools. Therefore the participation of the Two-Day Foundation workshop is recommended but not necessary.
All topics include exercises where the attendee's work together in groups to put into practice what has been learned. The more people interact and discuss, the more they will learn. The goal is to make sure that attendees can apply the studied topics at the next day in their organisation.
The Management 3.0 "Workout" Workshop lets you find answers to shared challenges with other people who also want to improve their organisations. The workshop includes hands-on approaches to these topics:
Employee engagement (Personal Maps)
Performance management (Metrics Ecosystem and OKRs)
Team collaboration and experimentation (Celebration Grids)
Rewards and recognition (Kudo Box)
Story-telling (Improvement Dialogues)
Extrinsic motivation vs. Intrinsic motivation (Moving Motivators)
Improve by success and failure (Celebration Grids)
Building trust (Culture Books)
Personal coaching (Feedback Wraps)
Team empowerment (Delegation Boards)
Worker Happiness (NikoNiko Calendar)
Compensation plans (Salary Formula and Merit Money)
…and how to customize it all for your team's specific needs!
Visit the event website for our upcoming public workshops
or
Contact us for an In-House Workshop at your company